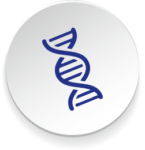 Quantity discount on orders of 4 or more
Ready-To-Use 8% 19:1 Denaturing DNA Gel Solution
Certified RNase and DNase Free
Consistently Crystal Clear Gels
Twelve Month Shelf Life at Room Temperature
Description
Quantity discount on orders of 4 or more
Ready-To-Use 8% 19:1 Denaturing DNA Gel Solution
Certified RNase and DNase Free
Consistently Crystal Clear Gels
Twelve Month Shelf Life at Room Temperature
Longstanding favorite of molecular biologists the world over, UreaGel 8 consists of UreaGel Monomer Solution and UreaGel Complete Buffer Solution (formerly SequaGel 8). The UreaGel Monomer Solution contains urea, as well as acrylamide and bis-acrylamide in the standard 19:1 ratio. UreaGel Complete Buffer Solution contains TBE and TEMED. Upon combining these two solutions, the researcher adds ammonium persulfate to form a crystal clear 8% 19:1 electrophoresis matrix containing 1X TBE (89 mM tris base, 89 mM boric acid, 2 mM EDTA, pH 8.3) and 6M urea.
Additional information
| | |
| --- | --- |
| Weight | 4 lbs |
| Dimensions | 8 × 8 × 16 in |
Protocol
Mix Solutions
Add appropriate volumes of SequaGel-UreaGel 8 Monomer Solution and UreaGel Complete Buffer to a thick-walled Erlenmeyer flask (see Table 1). If desired, the solution may be degassed by stirring under vacuum for two minutes.
Bring to room temperature before polymerization.
Table 1: Volumes of SequaGel-UreaGel 8 Monomer Solution and
UreaGel Complete Buffer to prepare 100mL gel solution
| UreaGel Complete Buffer | UreaGel Monomer Solution | 10% Ammonium Persulfate |
| --- | --- | --- |
| 20 mL | 80 mL | 800 μL |
Add APS and Cast Gel
Add FRESHLY PREPARED 10% ammonium persulfate (see Table 1). Swirl gently to mix, and cast the gel. Insert the comb and allow to polymerize one to two hours. NOTE: After two hours of polymerization wrap each end of the gel cassette with clear plastic wrap. This is important to keep the ends of the gel from drying and to maintain sample well integrity. Appropriately wrapped gels may be stored for up to 48 hours.
Safety Overview
Catalog Number: EC-838
Safety Summary (see MSDS for complete information before using product):
Appearance and Odor:
Clear colorless solution.
May cause cancer. May cause heritable genetic damage. Also toxic in contact with skin and if swallowed. Danger of serious damage to health by prolonged exposure through inhalation, in contact with skin or if swallowed.
Avoid exposure, obtain special instructions before use. In case of accident or if you feel ill, seek medical advice immediately (show the label where possible).
EMERGENCY OVERVIEW – IMMEDIATE HAZARD
WARNING! HARMFUL IF SWALLOWED. ACRYLAMIDE IS A NEUROTOXIN. MAY CAUSE ALLERGIC SKIN REACTION. MAY CAUSE EYE IRRITATION. POLYMERIZATION MAY OCCUR FROM EXCESSIVE HEAT OR CONTAMINATION.
Catalog Number: EC-841
Safety Summary (see SDS for complete information before using product):
Appearance and Odor
Clear colorless solution
EMERGENCY OVERVIEW – IMMEDIATE HAZARD
Boric Acid
CAUSES IRRITATION TO SKIN, EYES AND RESPIRATORY TRACT. BORIC ACID IS HARMFUL IF SWALLOWED OR INHALED.
Tris-Base
CAUSES IRRITATION TO SKIN, EYES, AND RESPIRATORY TRACT. HARMFUL IF SWALLOWED OR INHALED