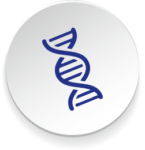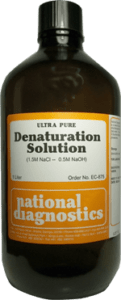 Quantity discount when you buy 4 or more bottles!
Hazardous Shipping Fees: This product may incur an additional hazardous shipping fee. We will pack the products to minimize all shipping costs, and the final charge will reflect the shipping cost and any applicable hazardous fees charged by FedEx.
National Diagnostics' Denaturation Solution is a ready-to-use buffer solution of sodium chloride and sodium hydroxide in distilled/deionized water. It is especially designed for use in Southern and Northern Blotting, and in situ hybridization procedures.
Denaturation Solution contains 1.5M sodium chloride, 0.5M sodium hydroxide.