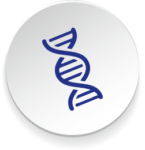 5X Protein Loading Buffer
Catalog number: EC-887
Size: 10 x 1 ml
Load more sample per well
Lithium Dodecyl Sulfate give improved resolution
Description
Catalog number: EC-887
Size: 10 x 1 ml
Load more sample per well
Lithium Dodecyl Sulfate give improved resolution
5X Protein Loading Buffer is a reducing sample buffer for SDS-polyacrylamide gel electrophoresis (SDS-PAGE). 5X Protein Loading Buffer contains 1.0M tris-HCl (pH 8.5), 8% (w/v) lithium dodecyl sulfate, 40% (v/w) glycerol, 2mM EDTA, 0.5M DTT and tracking dye in distilled/deionized water.
More concentrated loading buffer means less sample dilution, with more protein loaded per well.  The use of lithium dodecyl sulfate, in place of the more common sodium salt, give the best possible resolution.
Additional information
| | |
| --- | --- |
| Weight | 0.3 lbs |
| Dimensions | 6 × 3 × 3 in |
Safety Overview
Safety Summary (see SDS for complete information before using product):
Appearance and Odor
Clear, blue solution.
EMERGENCY OVERVIEW – IMMEDIATE HAZARD
CAUSES IRRITATION TO SKIN, EYES, AND RESPIRATORY TRACT. HARMFUL IF SWALLOWED OR INHALED.
EMERGENCY OVERVIEW – CHRONIC HAZARD WARNING
CHRONIC DERMATITIS MAY FOLLOW SKIN CONTACT.
Full SDS