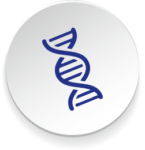 ProtoGel Quick Cast Loading Buffer
Catalog number:

EC-896
Size: 5 x 1 ml
Traditional Laemmli Stacking Gel Buffer (4X)
Formulated with 0.2 Micron Filtration
Ultra-Pure Reagents in 18 Megohm Water
Crystal Clear, Reproducible Gels
Description
Catalog number:

EC-896
Size: 5 x 1 ml
Traditional Laemmli Stacking Gel Buffer (4X)
Formulated with 0.2 Micron Filtration
Ultra-Pure Reagents in 18 Megohm Water
Crystal Clear, Reproducible Gels
The use of National Diagnostics' ProtoGel Stacking Buffer will ensure the purity and performance of your Laemmli gels. When diluted as directed ProtoGel Stacking Buffer forms a gel of 0.125 M Tris-HCl and 0.1% SDS, pH 6.8.
Storage: ProtoGel Stacking Buffer is stable for 24 months when stored tightly capped in a dark area at room temperature.
Protocol
Twenty Minute Casting
ProtoGel Quick-Cast contains the monomers and buffer components to produce a 12% gel.
Measure out the volume of ProtoGel Quick-Cast needed to fill the cassette – typically 10ml for one mini-gel, 15ml for two.
Add 100 microliters of fresh 10% APS and 10 microliters of TEMED per 10ml ProtoGel Quick-Cast. Mix briefly and pour into the gel cassette.
3. Insert comb and allow to polymerize at room temperature for 20 minutes. The gel is now ready to run.
For best results, it is recommended you use ProtoGel Quick-Cast Loading Buffer. Simply mix your samples with an equal volume of ProtoGel Quick-Cast Loading Buffer, load and run.
Safety Data Sheet