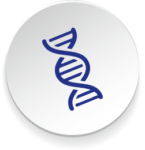 Quantity Discount when you buy 4 or more 1 liter kits
Catalog number: EC-842
Extended Range Gel Solution for DNA Electrophoresis
Higher Resolution
Certified RNase and DNase Free
Description
Quantity Discount when you buy 4 or more 1 liter kits
Catalog number: EC-842
Extended Range Gel Solution for DNA Electrophoresis
Higher Resolution
Certified RNase and DNase Free
SequaGel XR is specially formulated to produce greater resolution and more information — up to 500 DNA bands on a single-load gel. SequaGel XR's optimized, proprietary formulation prevents aberrant band inversions and yields sharp, clear, highly resolved bands.
SequaGel XR runs substantially faster than traditional gels, while actually improving resolution. These results are achieved in a comfortable time-tested format, providing full interlaboratory reproducibility.
SequaGel XR bands are sharp and true. SequaGel XR provides more information by allowing greater separation between bands near the top of the gel. This effect, similar to a wedge gel, is achieved with standard spacers.
The quality and consistency of SequaGel XR is evidenced by the uniform background obtained upon drying. Band edges are sharp. Even without fixing, the gel will dry without cracking or crazing. The result is a finely-rendered DNA gel.
SequaGel XR is shipped as a two component system consisting of the SequaGel XR Monomer Solution and UreaGel Complete Buffer. SequaGel Complete Buffer Solution contains TBE and TEMED. No dilutions are necessary in this easy to use system. Simply combine the two solutions, adds ammonium persulfate, and casts the gel. SequaGel XR is also available in the form of a 50% stock solution, SequaGel XR Concentrate.
Additional information
| | |
| --- | --- |
| Weight | 4 lbs |
| Dimensions | 8 × 8 × 16 in |
Protocol
Mix Solutions
Add appropriate volumes of SequaGel XR Monomer Solution and SequaGel Complete Buffer to a thick-walled Erlenmeyer flask (see Table 1). If desired, the solution may be degassed by stirring under vacuum for two minutes.
Bring to room temperature before polymerization.
Table 1: Volumes of SequaGel XR Monomer Solution and
SequaGel Complete Buffer to prepare 100mL gel solution

Add APS and Cast Gel
Add FRESHLY PREPARED 10% Ammonium Persulfate (see Table 1). Swirl gently to mix, and cast the gel. Insert the comb and allow to polymerize one to two hours. NOTE: After two hours of polymerization wrap each end of the gel cassette with clear plastic wrap. This is important to keep the ends of the gel from drying and to maintain sample well integrity. Appropriately wrapped gels may be stored for up to 48 hours.
Safety Overview
Safety Summary (see MSDS for complete information before using product):
Appearance and odor
Clear colorless solution.
May cause cancer. May cause heritable genetic damage. Also toxic in contact with skin and if swallowed. Danger of serious damage to health by prolonged exposure through inhalation, in contact with skin or if swallowed.
Avoid exposure. Obtain special instructions before use. In case of accident or if you feel ill, seek medical advice immediately (show the label where possible).
EMERGENCY OVERVIEW – IMMEDIATE HAZARD
WARNING! HARMFUL IF SWALLOWED. MAY CAUSE ALLERGIC SKIN REACTION. MAY CAUSE EYE IRRITATION. POLYMERIZATION MAY OCCUR FROM EXCESSIVE HEAT OR CONTAMINATION.
Full MSDS Protocols
Catalog Number: EC-842