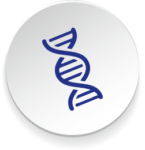 Quantity Discount 

on each 100-gram purchase of AquaPor LE when you buy four or more
Highest Quality Molecular Biology Grade Agarose
Low Electroendosmosis
DNase and RNase free
Rapidly Dissolving, Low Boil-Over
Description
Quantity Discount 

on each 100-gram purchase of AquaPor LE when you buy four or more
Highest Quality Molecular Biology Grade Agarose
Low Electroendosmosis
DNase and RNase free
Rapidly Dissolving, Low Boil-Over
AquaPor LE GTAC is the highest quality general purpose agarose gel available, ideal for most routine applications. Low EEO reduces the diffusion of smaller fragments and results in sharper, more clearly defined bands. High gel strength facilitates ease of use and handling of gels. Ultrafine particle size ensures the fastest and easiest dissolution.  AquaPor LE is certified to contain no detectable DNase, RNase, or protease. It makes an excellent matrix for the resolution of nucleic acids as well as high molecular weight proteins. AquaPor LE may be used confidently for Southern, Northern, and Western blotting, as well as in-gel hybridizations.
| | | |
| --- | --- | --- |
| EEO (-mr) | Gel Strength (g/cm2) | Gel Temp (0C) |
| ≤ 0.12 | ≥ 1200 @ 1.0% | ≥ 37 @ 1.0% |
Additional information
| | |
| --- | --- |
| Weight | 0.3 lbs |
| Dimensions | 7 × 7 × 14 in |
Protocol
DISSOLVING AQUAPOR AGAROSES
Catalog Number: EC-202: Download Full Protocol PDF >

A. Add room temperature buffer to a flask that is 2.5 – 4 times the volume of gel solution. Add a teflon-coated stir bar.
B. Add AquaPor powder while stirring vigorously so the agarose is dispersed uniformly. Stir for 2 minutes to hydrate the agarose.
C. Tare the flask and solution.
D. Place in a microwave oven and heat at 100% power using 20 – 60 second intervals. Swirl gently between intervals to resuspend the agarose.
E. Continue the cycle of heating and swirling until the agarose is completely dissolved (no visible particles are present).
F. Add distilled water to obtain the initial weight and mix.
G. Cool the solution to 50 – 60°C before pouring the gel.
* Chill the gel for 30 minutes prior to comb removal when using AquaPor LM, HR, and low (<1%) concentration of AquaPor LE and ES.
Catalog Number:
EC-202
EC-203
EC-204
EC-205
EC-206
Safety Overview
EMERGENCY OVERVIEW – IMMEDIATE HAZARD
WARNING! NEUROTOXIN.  HARMFUL IF SWALLOWED, INHALED, OR ABSORBED THROUGH SKIN. MAY CAUSE ALLERGIC SKIN REACTION. MAY CAUSE EYE IRRITATION. POLYMERIZATION MAY OCCUR FROM EXCESSIVE HEAT OR CONTAMINATION. COMBUSTIBLE SOLID.