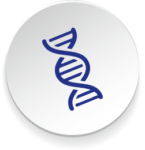 Ideal for Western Blotting Applications
Cast a 12% Gel in One Fourth the Time
Eliminates Mixing and Measuring
Precast Convenience without the Precast Price
Description
Ideal for Western Blotting Applications
Cast a 12% Gel in One Fourth the Time
Eliminates Mixing and Measuring
Precast Convenience without the Precast Price
---
For even sharper bands and higher resolution, use NEW Protogel Quick-Cast Loading Buffer.  Specially formulated to give superior results on Quick Cast Gels.  Now your Quick-Cast gels give even better results!
---
With the introduction of ProtoGel Quick-Cast, the time required for casting gels for Western Blots has been reduced from 2 hours to under 25 minutes, and the number of steps involved has been cut from 10 to only 3. With ProtoGel Quick-Cast, simply measure out the amount needed, add initiators and cast the gel. No mixing, no multiple measurements, no need for a second casting to produce a stacking gel.
ProtoGel Quick-Cast gels are run in standard 1X Tris-Glycine SDS. Electrical parameters will vary from apparatus to apparatus, but typically gels are run at 170V for 60 minutes.
Ideal for Western Blotting
ProtoGel Quick-Cast gels require no special handling after the run. Simply stain according to standard protocols.
Storage: ProtoGel Quick-Cast is stable for 24 months when stored tightly capped in the refrigerator (40C).
References:
"PRKC-ζ Expression Promotes the Aggressive Phenotype of Human Prostate Cancer Cells and Is a Novel Target for Therapeutic Intervention"
---
Additional information
| | |
| --- | --- |
| Weight | 1 lbs |
| Dimensions | 7 × 7 × 11 in |
Protocol
Twenty Minute Casting
ProtoGel Quick-Cast contains the monomers and buffer components to produce a 12% gel.
Measure out the volume of ProtoGel Quick-Cast needed to fill the cassette – typically 10ml for one mini-gel, 15ml for two.
Add 100 microliters of fresh 10% APS and 10 microliters of TEMED per 10ml ProtoGel Quick-Cast. Mix briefly and pour into the gel cassette.
3. Insert comb and allow to polymerize at room temperature for 20 minutes. The gel is now ready to run.
For best results, it is recommended you use ProtoGel Quick-Cast Loading Buffer. Simply mix your samples with an equal volume of ProtoGel Quick-Cast Loading Buffer, load and run.
Safety Overview
Safety Summary (see SDS for complete information before using product):
Appearance and Odor:
Clear, colorless odorless solution.
Neurotoxin. May cause cancer. May cause heritable genetic damage. Also toxic in contact with skin and if swallowed. Danger of serious damage to health by prolonged exposure through inhalation, in contact with skin or if swallowed.
Avoid exposure, obtain special instructions before use. In case of accident or if you feel ill, seek medical advice immediately (show the label where possible).
EMERGENCY OVERVIEW – IMMEDIATE HAZARD
WARNING! ACRYLAMIDE IS A NEUROTOXIN. HARMFUL IF SWALLOWED. MAY CAUSE ALLERGIC SKIN REACTION. MAY CAUSE EYE IRRITATION. POLYMERIZATION MAY OCCUR FROM EXCESSIVE HEAT OR CONTAMINATION.
Full SDS