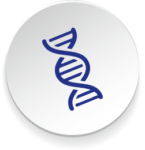 Quantity Discount when you buy 4 or more 100g units
Low Melting Temperature
DNase and RNase free
Exceptional Gel Strength for a Low Melt Agarose
Fastest Dissolving
Description
Quantity Discount when you buy 4 or more 100g units
Low Melting Temperature
DNase and RNase free
Exceptional Gel Strength for a Low Melt Agarose
Fastest Dissolving
AquaPor LM GTAC is a low melting temperature agarose for both large and small DNA fragments. For large fragments up to 25 kb, a 1% AquaPor LM solution forms a gel strong enough to be handled without fracturing. For separation of smaller fragments from 20 bp to 1,000 bp, AquaPor LM possesses low viscosity so that 3% or 4% gels can be made. DNA fragments separated in AquaPor LM may be immediately used for enzymatic manipulation in the presence of the remelted agarose. Ultra-fine particle size ensures fastest dissolution. AquaPor LM is certified to be DNase, RNase, and protease-free. AquaPor LM is certified for in-gel PCR (re)amplification and in-gel ligation.

Additional information
| | |
| --- | --- |
| Weight | 0.2 lbs |
| Dimensions | 6 × 3 × 3 in |
Protocol
DISSOLVING AQUAPOR AGAROSES
Catalog Number: EC-204: Download Full Protocol PDF >

A. Add room temperature buffer to a flask that is 2.5 – 4 times the volume of gel solution. Add a teflon-coated stir bar.
B. Add AquaPor powder while stirring vigorously so the agarose is dispersed uniformly. Stir for 2 minutes to hydrate the agarose.
C. Tare the flask and solution.
D. Place in a microwave oven and heat at 100% power using 20 – 60 second intervals. Swirl gently between intervals to resuspend the agarose.
E. Continue the cycle of heating and swirling until the agarose is completely dissolved (no visible particles are present).
F. Add distilled water to obtain the initial weight and mix.
G. Cool the solution to 50 – 60°C before pouring the gel.
* Chill the gel for 30 minutes prior to comb removal when using AquaPor LM, HR, and low (<1%) concentration of AquaPor LE and ES.
Catalog Number:
EC-202
EC-203
EC-204
EC-205
EC-206
Safety Overview
EMERGENCY OVERVIEW – IMMEDIATE HAZARD
AS PART OF GOOD INDUSTRIAL AND PERSONAL HYGIENE AND SAFETY PROCEDURE, AVOID ALL UNNECESSARY EXPOSURE TO THE CHEMICAL SUBSTANCE AND ENSURE PROMPT REMOVAL FROM SKIN, EYES, AND CLOTHING.