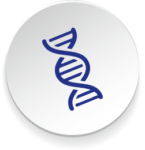 Quantity Discount when you buy 4 or more 1 Liter Bottles
Catalog number: EC-849

19:1 Acrylamide to Bisacrylamide Stabilized Solution
Consistently Crystal Clear Gels
Certified RNase and DNase Free
Stabilized for Long Shelf Life
Formulated with 18 Megohm Water, 0.2 Micron Filtration
Description
Quantity Discount when you buy 4 or more 1 Liter Bottles
Catalog number: EC-849

19:1 Acrylamide to Bisacrylamide Stabilized Solution
Consistently Crystal Clear Gels
Certified RNase and DNase Free
Stabilized for Long Shelf Life
Formulated with 18 Megohm Water, 0.2 Micron Filtration
Reliable
AccuGel 19:1 is a stabilized, ready-to-use solution of 30% or 40% (w/v) acrylamide : bisacrylamide (19:1). AccuGel 19:1 has zero acrylic acid content, eliminating the fixed charges that cause band streaking. Additionally, oxidation products such as aldehydes have been removed by a selective adsorption process. With AccuGel 19:1, you can trust that your results will be consistent from one electrophoretic run to the next.
Improved Safety
AccuGel 19:1 reduces exposure to neurotoxic acrylamide dust by eliminating the need for handling and weighing solid acrylamide and methylene bisacrylamide, which often leads to airborne particulate that can be readily inhaled. For your protection, AccuGel 19:1 is supplied in PVC coated shatter-proof bottles.
Stable and Pure
AccuGel 19:1 is stable for 24 months when stored tightly capped in a dark area at room temperature.
Additional information
| | |
| --- | --- |
| Weight | 4.6 lbs |
| Dimensions | 7 × 7 × 14 in |
Protocol
Procedure
Mix Gel Solution
Calculate how much AccuGel you need to make your gels by using the formulas below. Bring up to the desired final volume with your usual buffers and distilled water. Pour the solution into an Erlenmeyer flask with a side-arm. In most cases, AccuGel will gel without degassing. However, for optimum reproducibility, add a stirring bar to the solution and stopper the flask. Degas the solution under a vacuum for 5 minutes while stirring on a magnetic stirrer.
VA30 = (X) (Vt)/30 for 30% AccuGel
or
VA40 =(X) (Vt)/40 for 40% AccuGel
where:
Vt = Total volume of gel casting (solution desired (ml))
VA30 = Volume of 30% AccuGel to be used (ml)
OR
VA40 = Volume of 40% AccuGel to be used (ml)
Initiate and Cast Gel:
Add 1.0ml of 10% (w/v) FRESHLY PREPARED ammonium persulfate for every 100ml of gel casting solution. Swirl gently to mix. Add 100 microliters of TEMED for every 100ml of gel casting solution. Swirl gently to mix. Pour the solution into the gel casting cassette. The gel should begin to set in 10-20 minutes. Polymerization should be permitted to continue for a minimum of 1.5-2 hours before gel is run.
NOTE: After two hours of polymerization wrap each end of the gel cassette with clear plastic wrap. This is important to keep the ends of the gel from drying and to maintain sample well integrity. Appropriately wrapped gels may be stored for up to 48 hours.
Safety Overview
Safety Summary (see SDS for complete information before using product):
EMERGENCY OVERVIEW – IMMEDIATE HAZARD
WARNING! NEUROTOXIN. HARMFUL IF SWALLOWED, INHALED OR ABSORBED THROUGH SKIN. SYMPTOMS OF EXPOSURE MAY INCLUDE NUMBNESS, SWEATING OR ALTERED GAIT. MAY CAUSE ALLERGIC SKIN REACTION. MAY CAUSE EYE IRRITATION. POLYMERIZATION MAY OCCUR FROM EXCESSIVE HEAT OR CONTAMINATION.
Full SDS