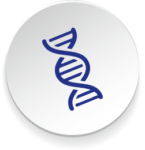 Catalog number:

EC-898
Size: 0.5 ml
Proteins Stained with High Definition Blue Dye
Red Protein Band Included for Easy Orientation
High Contrast, High-Intensity Labeling
Description
Catalog number:

EC-898
Size: 0.5 ml
Proteins Stained with High Definition Blue Dye
Red Protein Band Included for Easy Orientation
High Contrast, High-Intensity Labeling
ProtoMarkers consist of seven (7) purified proteins. Six markers are permanently labeled with high-contrast blue dye. One protein is labeled with high-contrast red dye to facilitate accurate positioning on the gel.
ProtoMarkers Protein Standards range in size from approximately 20 kD to 190 kD, covering the most common protein molecular weights. Marker sizes shown are representative- each lot of ProtoMarkers is individually calibrated to provide accurate size information for the labeled proteins in that lot.
ProtoMarkers are supplied in quantities of 500 microliters per vial. Each vial contains sufficient material for 100 mini-gels.
Additional information
| | |
| --- | --- |
| Weight | 4 lbs |
| Dimensions | 8 × 6 × 6 in |
Safety Overview
Safety Summary (see SDS for complete information before using product):

Appearance and Odor
Clear, colorless solution
EMERGENCY OVERVIEW – IMMEDIATE HAZARD
2-Mercaptoethanol
DANGER! MAY BE FATAL IF ABSORBED THROUGH SKIN. HARMFUL IF SWALLOWED OR INHALED. CAUSES IRRITATION TO SKIN, EYES, AND RESPIRATORY TRACT. COMBUSTIBLE LIQUID AND VAPOR. Health hazards given on this data sheet apply to concentrated solutions of mercaptoethanol or the substance in its pure form. Hazards of dilute solutions may be reduced, depending upon the concentration. Degree of hazard for these reduced concentrations is not currently addressed in the available literature.
Tris-Base
CAUSES IRRITATION TO SKIN, EYES, AND RESPIRATORY TRACT. HARMFUL IF SWALLOWED OR INHALED.
Full SDS