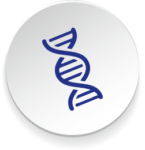 ND Protein Precipitation Kit
Catalog number: EC-888
Size: 1 Kit
Recovery of All Proteins from Complex Mixtures
Precipitates as Little as 100ng of BSA at 0.25µg/ml
Milder than TCA
More Reliable than Acetonitrile or Ammonium Sulfate
Description
Catalog number: EC-888
Size: 1 Kit
Recovery of All Proteins from Complex Mixtures
Precipitates as Little as 100ng of BSA at 0.25µg/ml
Milder than TCA
More Reliable than Acetonitrile or Ammonium Sulfate
The ND Protein Precipitation Kit is mild on samples and easy to use. It casts the finest net of any procedure, allowing the high yield collection of all proteins in solution, precipitating even the most dilute proteins. The ND Protein Precipitation Kit allows collection of proteins that would be missed by other methods.
Ideal for both routine and difficult work, the ND Protein Precipitation Kit stands alone among all methods. It offers the best combination of mildness, simplicity and effectiveness in protein precipitation.
---
High Yield Recovery
Simplicity of Method
---
Additional information
| | |
| --- | --- |
| Weight | 1 lbs |
| Dimensions | 8 × 3 × 10 in |
Protocol
Procedure:
Add 1/20 volume Reagent A to sample in a centrifuge tube and mix well.
Add 1/10 volume Reagent B to sample.
Allow to precipitate for 20 minutes at room temperature. Precipitate is comprised of Reagent A:B complex along with trapped protein molecules.
Collect precipitate by centrifugation and remove supernatant. The pellet will be large.
Completely disperse pellet in acetone to dissolve away precipitated A:B complex. The solution should appear clear to cloudy, depending on protein concentration, with no visible clumps. Undispersed clumps will trap impurities which will be carried over into the final isolate.
Collect proteins by centrifugation.
To remove salts and surfactants, wash pellet with acetone, acetonitrile or 70% ethanol. This step may be repeated if desired for heavily contaminated samples, or for downstream applications requiring the highest purity proteins. Collect proteins by brief centrifugation if necessary.
Redissolve pellet in desired buffer.
Safety Overview
Safety Summary (see SDS for complete information before using product):
Reagent A
Catalog Number: EC-888A
Appearance and Odor
Clear colorless aqueous Solution
EMERGENCY OVERVIEW – IMMEDIATE HAZARD
May be harmful if swallowed. May cause severe eye irritation and possible injury. Causes skin and respiratory tract irritation.
---
Reagent B
Catalog Number: EC-888B
Safety Summary (see MSDS for complete information before using product):
Appearance and Odor
Aqueous Solution
EMERGENCY OVERVIEW – IMMEDIATE HAZARD
WARNING! HARMFUL IF SWALLOWED OR INHALED. CAUSES IRRITATION TO SKIN, EYES AND RESPIRATORY TRACT.
Full SDS