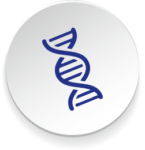 Chemically bonds the gel to the glass plate
Prevents cracking and tearing of the gel
Description
Chemically bonds the gel to the glass plate
Prevents cracking and tearing of the gel
National Diagnostics' Glass Bond allows polyacrylamide gels to be affixed to one of the glass plates used for casting electrophoresis gels. The glass plate is chemically modified so that the gel becomes covalently bound to the glass, enabling it to be manipulated without danger of the gel ripping or slipping off the plate. Glass Bond is especially convenient for treating large sequencing plates, as subsequent manipulation can be performed without fear of ripping or disrupting the gel. On plates treated with Glass Bond, the gels dry down to a smooth plastic film without the use of a gel dryer, thus autoradiography can easily be performed.
Storage: Glass Bond is best stored tightly capped in a cool dry area.
A total of 6.25 liters of bonding solution (enough for over 100 applications on 40 X 40 cm glass plates) can be made from one 25 ml bottle of Glass Bond.
Additional information
| | |
| --- | --- |
| Weight | .3 lbs |
| Dimensions | 6 × 3 × 3 in |
Protocol
Glass Free Method of Use
Basic Protocol
WARNING: Always work with Glass Free in a hood.
For preparing glass plates for gel casting, Glass Free is to be used only on the removable upper plate. Clean the glass with detergent, water, distilled water, and methanol.
After the plate is thorougly dry immerse it in a dish of Glass Free for 5 minutes, making sure that all areas of the glass are well covered by the reagent. Remove any trapped air bubbles. Use latex, PVC or polyethylene gloves.
Remove the glass plate from the Glass Free vessel and thoroughly rinse it with an organic solvent such as toluene, xylene or mineral spirits.
Rinse the solvent off with methanol. Lightly buff out the methanol with a paper towel. The plates are now ready for use. Store them in a plastic bag and interleaved with paper.
To reuse a plate that has previously been treated with Glass Free wash the plate with water and distilled water, and follow by a final rinse with methanol and buff.
Safety Overview
Safety Summary (see MSDS for complete information before using product):
Appearance and Odor:
Clear colorless solution with acrid odor.
Irritating to eyes, respiratory system and skin.
In case of contact with eyes, rinse immediately with plenty of water and seek medical advice. After contact with skin, wash immediately with plenty of water.
EMERGENCY OVERVIEW – IMMEDIATE HAZARD
IRRITATING TO EYES, RESPIRATORY SYSTEM, AND SKIN. AVOID HEAT, FLAMES AND SPARKS.