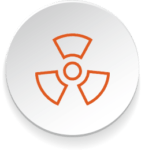 Quantity Discount when you buy 4 or more 4 Liter Bottles
Catalog Number: LS-271
The Original Ecologically Responsible Scintillation Fluid
Readily Biodegradable
Economical
Robust Sample Handling
Excellent All-Around Performance
Description
Quantity Discount when you buy 4 or more 4 Liter Bottles
Catalog Number: LS-271
The Original Ecologically Responsible Scintillation Fluid
Readily Biodegradable
Economical
Robust Sample Handling
Excellent All-Around Performance
Ecoscint is the first ecologically friendly scintillation solution. Ecoscint offers the convenience of a complete and ready-to-use solution, for both aqueous and non-aqueous samples. Substantially less toxic than conventional scintillation fluids, Ecoscint is biodegradable and non-flammable.
Ecoscint has comparable efficiency and greater sample holding capacity than conventional scintillators and maintains a single liquid phase up to saturation.
Additional information
| | |
| --- | --- |
| Weight | 45 lbs |
| Dimensions | 15 × 10 × 13 in |
MSDS Safety Overview
Safety Summary (see MSDS for complete information before using product):
Appearance and odor:
Clear liquid with blue phosphoresence and mlld odor
Harmful by inhalation, in contact with skin and if swallowed may cause sensitization by inhalation.
In case of contact with eyes, rinse immediately with plenty of water, and seek medical advice. Wear suitable protective clothing.
EMERGENCY OVERVIEW – IMMEDIATE HAZARD
Nalkylene
MAY BE IRRITATING TO THE SKIN, EYES, AND RESPIRATORY TRACT.
Linear alkyl phenyl ethoxylates
CAUSES EYE IRRITATION. MAY CAUSE RESPIRATORY TRACT IRRITATION.
Full MSDS Protocol