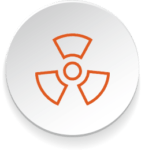 Quantity Discount when you buy 4 or more 4 Liter Bottles
Catalog Number: LS-275
The Highest Efficiency Scintillation Fluid for Aqueous Samples on the Market
Readily Biodegradable
Reduced Toxicity Solvent
High Flash Point (>150°C)
Description
Quantity Discount when you buy 4 or more 4 Liter Bottles
Catalog Number: LS-275
The Highest Efficiency Scintillation Fluid for Aqueous Samples on the Market
Readily Biodegradable
Reduced Toxicity Solvent
High Flash Point (>150°C)
Ecoscint H is the highest efficiency, low toxicity, biodegradable scintillation solution available. Ecoscint H is specifically designed to provide the maximum counting efficiency for aqueous sample volumes under 10% of the total liquid scintillation volume. Furthermore, Ecoscint H has exceptional resistance to photoluminescence and chemiluminescence, which is especially important when counting biological samples or acrylamide gel slices.
Ecoscint H delivers high-efficiency counting for many different types of samples.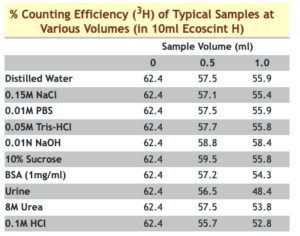 Additional information
| | |
| --- | --- |
| Weight | 45 lbs |
| Dimensions | 15 × 10 × 13 in |
MSDS Safety Overview
Safety Summary (see MSDS for complete information before using product):
Appearance and odor:
Clear liquid with blue phosphoresence and mlld odor
Irritating to eyes and skin.
In case of contact with eyes, rinse immediately with plenty of water, and seek medical advice. Wear suitable protective clothing.
EMERGENCY OVERVIEW – IMMEDIATE HAZARD
Phenyl Xylyl Ethane (PXE)
MAY BE IRRITATING TO THE SKIN, EYES, AND RESPIRATORY TRACT.Butyl DioxitolHazardous in case of eye contact (irritant), of ingestion, of inhalation. Slightly hazardous in case of skin contact(irritant, permeator).
Linear alkyl phenyl ethoxylates
CAUSES EYE IRRITATION. MAY CAUSE RESPIRATORY TRACT IRRITATION
Full MSDS Protocol