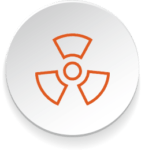 Quantity Discount when you purchase 10 or more boxes!Catalog Number: NW-300Size: 1 BoxSafe and Effective Radioactive DecontaminationSuperior CleanerBiodegradablepH NeutralWill Not Damage Metal Instruments
Description
Quantity Discount when you purchase 10 or more boxes!
Catalog Number: NW-300
Size: 1 Box
Safe and Effective Radioactive Decontamination
Superior Cleaner
Biodegradable
pH Neutral
Will Not Damage Metal Instruments
Nuclean is a concentrated, economical, and highly efficient solution for safe and fast removal of radioactivity from laboratory glassware, equipment, and laboratory surfaces. It is also a superior general laboratory cleaner and degreaser.
In normal use, Nuclean is diluted 1:50 with water, and the glassware allowed to soak overnight and rinsed clean with distilled water. Faster decontamination is effected by increasing the concentration to 1:20 and elevating the temperature. Agitation will greatly accelerate the process. For surface decontamination, such as lab benches and tops, Nuclean should be used undiluted.
Nuclean is biodegradable and mild to the skin when diluted 1:50. Nuclean is not only more effective than chromic acid but is safer to use as well. Quart containers are supplied with a spray head.
Additional information
| | |
| --- | --- |
| Weight | 0.3 lbs |
| Dimensions | 6 × 3 × 3 in |
Protocol
Wipe Test Protocol:
The following protocol is intended as a helpful resource. Your Radiation Safety office may require special procedures not included in this method.
Create a detailed floor plan of the laboratory of the work area and equipment for monitoring including bench tops, protective bench paper, shields, pipetmen, door handles, clothing, etc. as well as all devices or apparatus used in radionuclide work.
Mark locations to be tested on a dated copy of the floor plan. Use a simple alphanumeric code to uniquely identify each location on the map.
Using a system of labels corresponding to your alphanumeric code, label a 20ml scintillation vial to correspond to each wipe location.
Label an additional vial for use for the background count.
Use a Nuc-Wipe moistened with 65% – 75% ethanol to wipe each area to be tested. Wipe an area approximately of 100 cm2 applying moderate pressure. Because consistency in wipe technique is essential for reliable results, we recommend wiping with the same, easily repeatable pattern at each location.
Place the wipe in the corresponding labelled scintillation vial and allow to air dry. Repeat process for each location to be monitored.
Place a clean Nuc-Wipe in vial labelled for background determination.
Add 10ml of emulsifying scintillation fluid to each vial. (For this application we recommend National Diagnostics Ecoscint H (LS-275), which combines high counting efficiency, biodegradability, and the capability to emulsify or dissolve both polar and nonpolar residues.) Agitate for 5 minutes or until Nuc-Wipes have completely dissolved.
Measure the radioactivity on each wipe using a liquid scintillation counter. Record the results in the manner preferred by your Radiation Safety office.
Decontaminate any areas that are determined to be contaminated with radioactivity, then rewipe. Decontaminate the area(s) until the measured levels are below guidelines.