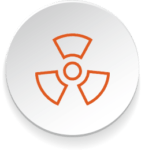 Quantity Discount when you buy 4 or more 4 Liter Bottles
Catalog Number: LS-285
Non-Hazardous and Biodegradable
Moderate Sample Hold (3:1 Cocktail to Sample)
Description
Quantity Discount when you buy 4 or more 4 Liter Bottles
Catalog Number: LS-285
Non-Hazardous and Biodegradable
Moderate Sample Hold (3:1 Cocktail to Sample)
Monoflow 5 is a biodegradable liquid scintillator of low toxicity for HPLC effluents counted in flow detectors at ratios of up to 3:1 scintillator to sample. Monoflow 5 is nonhazardous and can often be disposed of as normal liquid waste.
Additional information
| | |
| --- | --- |
| Weight | 9 lbs |
| Dimensions | 15 × 10 × 13 in |
MSDS Safety Overview
Safety Summary (see MSDS for complete information before using product):

Appearance and odor:
Clear liquid with blue phosphorescence and mild odor
Flammable. Harmful if swallowed.
Keep out of reach of children. Do not breathe fumes. Avoid contact with the skin. If swallowed, do not induce vomiting. Seek medical advice immediately and show this container or label.
EMERGENCY OVERVIEW – IMMEDIATE HAZARD
POISON! DANGER! UNDILUTED COMPONENTS CAUSE BURNS TO ANY AREA OF CONTACT. MAY BE FATAL IF SWALLOWED. HARMFUL IF INHALED. CONTACT WITH OTHER MATERIALS MAY CAUSE FIRE.
Full MSDS Protocol