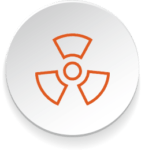 Quantity Discount when you buy 4 or more 4 Liter Bottles
Catalog Number: LS-309
Size: 4 liter
Biodegradable Scintillator for Use with BiosolNonhazardous Waste after combination with BiosolClear Emulsions for Excellent Countin
Description
Quantity Discount when you buy 4 or more 4 Liter Bottles
Catalog Number: LS-309
Size: 4 liter
Biodegradable Scintillator for Use with Biosol
Nonhazardous Waste after combination with Biosol
Clear Emulsions for Excellent Countin
When used together, Biosol and Bioscint form a non-hazardous, biodegradable tissue solubilizer and scintillation solution. The solubilizer, Biosol, is designed to be used with a variety of samples, including tissue, filters, and polyacrylamide gels. Bioscint is our neutralizing scintillation solution. Used in combination with Biosol, Bioscint eliminates chemiluminescence and renders the solubilizer nonhazardous.
One (1) part Biosol must be mixed with ten (10) parts Bioscint to be disposed of as non-hazardous waste under EPA 40 CFR Subpart C. Neither Biosol nor Bioscint can be disposed of separately as nonhazardous waste. Biosol is compatible with all aqueous scintillation solutions. However, only Bioscint will render the solution nonhazardous for disposal.
Storage: Biosol is corrosive, and is best stored tightly capped in a cool dry area.
Additional information
| | |
| --- | --- |
| Weight | 10 lbs |
| Dimensions | 15 × 10 × 13 in |
MSDS Safety Overview
Safety Summary (see MSDS for complete information before using product):
Appearance and Odor
Clear, colorless liquid
EMERGENCY OVERVIEW – IMMEDIATE HAZARD
Phenyl Xylyl Ethane (PXE)
MAY BE IRRITATING TO THE SKIN, EYES, AND RESPIRATORY TRACT.
Linear alkyl phenyl ethoxylates
CAUSES EYE IRRITATION. MAY CAUSE RESPIRATORY TRACT IRRITATION.
Butoxy Ethanol
CAUTION! SEVERELY IRRITATING TO THE EYES. IRRITATING TO THE SKIN, NOSE THROAT AND RESPIRATORY TRACT. TOXIC IF INHALED, INGESTED OR ABSORBED THROUGH SKIN.
Alcohol ethoxylate phosphate ester
CAUSES EYE IRRITATION. MAY CAUSE RESPIRATORY
Full MSDS Protocol