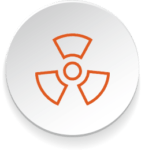 Quantity Discount when you buy 4 or more 4 Liter Bottles
Catalog Number: LS-273
The Ideal Universal Scintillation Cocktail
All-Around Performance
High Efficiency with High Sample Holding
Biodegradable, Reduced Toxicity Solvent
High Flash Point (>150°C)
Description
Quantity Discount when you buy 4 or more 4 Liter Bottles
Catalog Number: LS-273
The Ideal Universal Scintillation Cocktail
All-Around Performance
High Efficiency with High Sample Holding
Biodegradable, Reduced Toxicity Solvent
High Flash Point (>150°C)
Ecoscint A displays exceptional sample holding capability while still delivering high efficiency, easily accommodating up to 40% sample while maintaining a single liquid phase. Furthermore, Ecoscint A has exceptional resistance to photoluminescence and chemiluminescence. Ecoscint A is readily biodegradable, with a mean DOC elimination of >70% at 10 days. The high flash point, low odor and low toxicity of Ecoscint A make it perfect for benchtop work, as it is not necessary to use or store under a fume hood.
Ecoscint A maintains its high sample hold capacity for a broad range of solution types, delivering high-efficiency counting for many different types of samples.
Additional information
| | |
| --- | --- |
| Weight | 9 lbs |
| Dimensions | 15 × 9 × 12.25 in |
MSDS Safety Overview
Safety Summary (see MSDS for complete information before using product):
EMERGENCY OVERVIEW – IMMEDIATE HAZARD
Phenyl Xylyl Ethane (PXE)
MAY BE IRRITATING TO THE SKIN, EYES, AND RESPIRATORY TRACT.
Linear alkyl phenyl ethoxylates
CAUSES EYE IRRITATION. MAY CAUSE RESPIRATORY TRACT IRRITATION.
Full MSDS Protocol