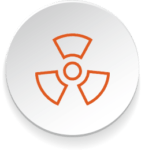 Quantity Discount when you buy 4 or more bottles
Catalog Number: LS-270
Size: 4 liter
The Best Performing Cocktail on the Market
Readily Biodegradable
Ideal Cocktail for Environmental Testing
Ultra-High Sample Hold
Low Toxicity
Description
Quantity Discount when you buy 4 or more bottles
Catalog Number: LS-270
Size: 4 liter
The Best Performing Cocktail on the Market
Readily Biodegradable
Ideal Cocktail for Environmental Testing
Ultra-High Sample Hold
Low Toxicity
When National Diagnostics laboratories set out to create Ecoscint Ultra, our aim was to create the best cocktail available for environmental sample counting and urine bioassay. We are proud to announce that not only have we succeeded in this goal, we have surpassed it, creating the best all-around performing cocktail on the market for both large and small aqueous samples.
Ecoscint Ultra enables ultra-low level counts to be discriminated from background not only for large but also for small samples. With large samples, Ecoscint Ultra delivers up to 30% 3H counting efficiency at maximum sample hold with very low background levels. With small samples, Ecoscint Ultra yields 3H efficiency greater than 60%.
10ml of Ecoscint Ultra holds 12ml H2O or 10ml 0.5M NaCl in a clear emulsion at 18°C.
Additional information
| | |
| --- | --- |
| Weight | 10 lbs |
| Dimensions | 15 × 10 × 13 in |
MSDS Safety Overview
Safety Summary (see MSDS for complete information before using product):
Appearance and Odor:
Nearly odorless, clear, blue-violet fluorescent liquid.
EMERGENCY OVERVIEW – IMMEDIATE HAZARD
Bis(1-methylethyl) naphthalene
May cause eye and skin irritation. May cause respiratory and digestive tract irritation. The toxicological properties of this material have not been fully investigated.
Butyl Dioxitol
Hazardous in case of eye contact (irritant), of ingestion, of inhalation. Slightly hazardous in case of skin contact(irritant, permeator).
Linear alkyl phenyl ethoxylates
CAUSES EYE IRRITATION. MAY CAUSE RESPIRATORY TRACT IRRITATION.
Full MSDS Protocol