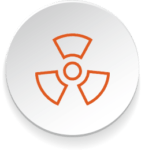 Quantity Discount when you buy 4 or more 4 Liter Bottles
Catalog Number: LS-274
Cocktail for Non-Aqueous Samples
Readily Biodegradable
Ultra-High Efficiency
Low Toxicity
Description
Quantity Discount when you buy 4 or more 4 Liter Bottles
Catalog Number: LS-274
Cocktail for Non-Aqueous Samples
Readily Biodegradable
Ultra-High Efficiency
Low Toxicity
Ecoscint O is intended for use with non-aqueous samples. Ecoscint O is readily biodegradable, and because of its high flash point and low toxicity, Ecoscint O represents a substantial improvement in safety over conventional cocktails. Additionally, Ecoscint O exhibits lower backgrounds and improved quench resistance compared to non-biodegradable solutions.
Additional information
| | |
| --- | --- |
| Weight | 9 lbs |
| Dimensions | 15 × 9 × 12.25 in |
MSDS Safety Overview
Safety Summary (see MSDS for complete information before using product):
Appearance and odor:
Clear liquid with blue phosphoresence and mlld odor
Irritating to eyes and skin.
In case of contact with eyes, rinse immediately with plenty of water and seek medical advice. Wear suitable protective clothing.
EMERGENCY OVERVIEW – IMMEDIATE HAZARD
MAY BE IRRITATING TO THE SKIN, EYES, AND RESPIRATORY TRACT
Full MSDS Protocol