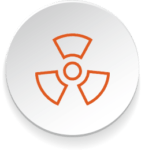 Quantity discount when you buy 4 or more 4 liter bottles
Catalog Number: LS-288
Ultra-High Sample-Hold Flow Cocktail
Low Viscosity
Non-Gelling
Ultra-High Sample Hold (1:1 Cocktail to Sample)
High Counting Efficiency
Description
Quantity discount when you buy 4 or more 4 liter bottles!
Catalog Number: LS-288
Ultra-High Sample-Hold Flow Cocktail
Low Viscosity
Non-Gelling
Ultra-High Sample Hold (1:1 Cocktail to Sample)
High Counting Efficiency
Formulated for multipurpose flow applications, Ecoscint Flow represents the utilization of National Diagnostics' new advances in scintillation fluid chemistry to create a low viscosity cocktail. Ecoscint Flow accepts a wide range of HPLC gradients at a 1:1 ratio, providing high counting efficiency (25% 3H efficiency at 1:1 cocktail/sample). Even difficult samples such as 0.1N NaOH mix rapidly to yield a clear, nonviscous emulsion.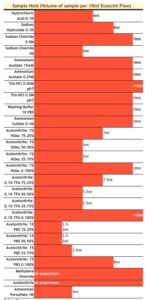 Additional information
| | |
| --- | --- |
| Weight | 45 lbs |
| Dimensions | 15 × 10 × 13 in |
Safety Overview
Safety Summary (see SDS for complete information before using the product):
Appearance and odor:
Clear liquid with blue phosphorescence and mild odor
Irritating to eyes and skin.
In case of contact with eyes, rinse immediately with plenty of water and seek medical advice.
EMERGENCY OVERVIEW – IMMEDIATE HAZARD
Phenyl Xylyl Ethane (PXE)
MAY BE IRRITATING TO THE SKIN, EYES, AND RESPIRATORY TRACT.
Primary Alcohol Ethoxylate
NO INFORMATION FOUND.
Butoxy Ethanol
CAUTION! SEVERELY IRRITATING TO THE EYES. IRRITATING TO THE SKIN, NOSE THROAT AND RESPIRATORY TRACT. TOXIC IF INHALED, INGESTED OR ABSORBED THROUGH SKIN
Full SDS