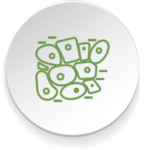 Finest Control of the Ripening Process
Longest Shelf Life
Fewest Artifacts
Reproducible Vibrant Staining
Description
Finest Control of the Ripening Process
Longest Shelf Life
Fewest Artifacts
Reproducible Vibrant Staining
The most commonly used histological stain, hematoxylin is a natural compound extracted from a species of tree found in Mexico and the West Indies. The extracted compound is oxidized to produce hematein, the active staining component of the hematoxylin stain. The production of histological staining solutions is an art. Only a few laboratories are capable of developing a stain of reliable vibrance.
At National Diagnostics we have gone one step further. Our proprietary methods achieve the finest control of the ripening process, resulting in the only commercially available Harris' Hematoxylin with a full one-year shelf-life.
Additional information
| | |
| --- | --- |
| Weight | 5 lbs |
| Dimensions | 7 × 7 × 14 in |
Protocol
Staining Procedure
Stain rehydrated sections in Hematoxylin solution for 20-40 minutes.
Wash in tap water for 1-5 minutes, until sections turn blue ("bluing").
Differentiate sections in 70% ethanol—containing 1% HCl—for 5 seconds. This removes excess dye, allowing nuclear details to emerge.
Wash 1-5 minutes in tap water until blue.
Stain in Eosin solution for 10 minutes.
Wash 1-5 minutes in tap water.
Dehydrate, clear and mount.
Note the use of tap water in the washing steps—tap water provides the alkanlinity necessary for the "bluing" process.
Safety Overview
Safety Summary (see SDS for complete information before using product):
Appearance and Odor
Purple liquid
EMERGENCY OVERVIEW – IMMEDIATE HAZARD
Ammonium alum
No information found.
Ethanol
MAY BE HARMFUL IF SWALLOWED. HARMFUL IF INHALED OR ABSORBED THROUGH THE SKIN. CAUSES EYE, AND UPPER RESPIRATORY TRACT IRRITATION. CAN CAUSE CENTRAL NERVOUS SYSTEM DEPRESSION.
Hematoxylin
No information found.
EMERGENCY OVERVIEW – CHRONIC HAZARD WARNING
Ammonium alum
No information found.
Ethanol
CHRONIC EFFECTS INCLUDE DAMAGE TO THE LIVER, DAMAGE TO THE HEART, DAMAGE TO THE KIDNEYS.
Hematoxylin
No information found.
Full SDS