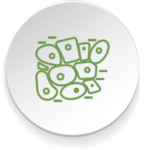 Quantity Discount when you buy 4 or more bottles

Catalog number: HS-106
Size: 100 ml

Water-based mounting medium
Ideal for frozen tissue sections
Description
Quantity Discount when you buy 4 or more bottles

Catalog number: HS-106
Size: 100 ml
Water-based mounting medium
Ideal for frozen tissue sections
Hydromount is the traditional choice whenever a nonfluorescing aqueous medium is needed. Hydromount is water-based and is suitable for mounting specimens that have been processed in water. Hydromount is effective for frozen sections, amyloid, and immunofluorescent staining procedures. Should it become necessary, Hydromount may be removed by soaking the slides in warm saline.
Additional information
| | |
| --- | --- |
| Weight | 1 lbs |
| Dimensions | 6 × 3 × 3 in |
MSDS Safety Overview
Appearance and Odor
Clear to straw-colored viscous liquid.
EMERGENCY OVERVIEW – IMMEDIATE HAZARD
THE PROPRIETARY POLYMER IS NOT EXPECTED TO POSE A SIGNIFICANT HEALTH HAZARD UNDER NORMAL CONDITIONS OF USE. EXPOSURE MAY CAUSE EYE, SKIN & RESPIRATORY TRACT IRRITATION. INGESTION MAY CAUSE GI TRACT DISCOMFORT.