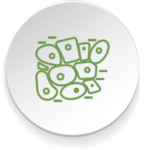 Quantity discount when you buy 4 or more 1 gallon bottles!
Hazardous Shipping Fees: This product may incur an additional hazardous shipping fee. We will pack the products to minimize all shipping costs, and the final charge will reflect the shipping cost and any applicable hazardous fees charged by FedEx.
Catalog Number: HS-200
Rapid Clearing without the Toxic Hazards of Xylene
Biodegradable:  Natural Product with Food Grade Rating Worldwide
Compatible with Most Popular Mounting Media
Superior Results with Low Citrus Odor
Description
The use of Histo-Clear in the laboratory means no longer having to breathe xylene when preparing histological sections. Distilled from oranges, carefully purified, and stabilized, Histo-Clear is one of the safest clearing agents available.
Histo-Clear not only improves safety but also results. Histo-Clear leaves tissue less hard and brittle than xylene, facilitating the cutting of thin sections and prolonging microtome blade life. Nuclear morphology is rendered in fine detail. Histo-Clear enhances the clarity and vibrance of acidophilic stains and improves staining of Harris' Hematoxylin with a brighter Eosin background. Histo-Clear can directly substitute for xylene and yields excellent results in automated tissue processing.
Additional information
| | |
| --- | --- |
| Weight | 8 lbs |
| Dimensions | 7 × 5 × 12 in |
Safety Overview
Safety Summary (see SDS for complete information before using product):
Appearance and Odor
Colorless, mobile liquid with citrus odor.
EMERGENCY OVERVIEW – IMMEDIATE HAZARD
COMBUSTIBLE LIQUID. ALL MATERIALS IN THIS PRODUCT ARE GRAS (GENERALLY REGARDED AS SAFE). HOWEVER, THIS PRODUCT MAY BE HARMFUL IF SWALLOWED IN SUFFICIENT VOLUME. INGESTION MAY CAUSE VOMITING, HEADACHE, AND OTHER MEDICAL PROBLEMS. THIS PRODUCT MAY BE IRRITATING TO SKIN AND EYES. INHALATION CAN CAUSE NOSE, THROAT, AND RESPIRATORY TRACT IRRITATION, COUGHING AND HEADACHE. EXTREMELY OLD OR IMPROPERLY STORED PRODUCT MAY BEGIN TO ACCUMULATE POTENTIALLY SENSITIZING BREAK-DOWN PRODUCTS.
EMERGENCY OVERVIEW – CHRONIC HAZARD WARNING
PROLONGED OR REPEATED EXPOSURE CAN CAUSE DRYING, DEFATTING AND DERMATITIS OF SKIN.
Full SDS